Is It Cheaper to Run a Fan or an AC in Arizona in the Summer?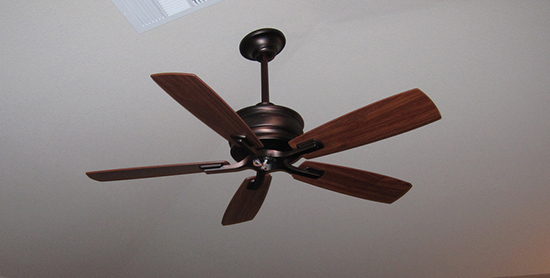 With temperatures that can get up above 110 degrees, Arizona summers can get uncomfortable fast without a fan or AC unit to take the heat down a notch. When you run an appliance to cool your home in an Arizona summer, the costs can add up quickly. That's why understanding energy costs and how to use both your AC and fans to maximize energy efficiency makes sense.
Energy Comparisons
Fans and AC units use electricity to run, but the amount of electricity they use per hour differs tremendously. This chart breaks down the typical energy usage by fans and air conditioners:
| | | | |
| --- | --- | --- | --- |
| Appliance | Volts | Watts | Amps |
| Fan | 110 | 45 – 65/hour | 2/3 |
| Air Conditioner | 230 | 1200 – 2800/hour | 20 – 25 |
As this chart shows, fans use far less energy per hour than an AC unit does. Therefore, per hour of use, your fan is going to cost less to run. Keep in mind that energy efficient air conditioners use 10 percent less energy per SEER point, so the higher your SEER number, the lower your energy bill for each hour of use. An older unit – particularly if it's more than 10 years old – will cost you more money than a newer, more efficient model.
Lowering the Temperature
It's not quite possible to compare apples to apples when looking at the costs between fans and air conditioners. A ceiling fan can only lower a room's temperature approximately 5 degrees (and only in the room it's installed in). It will not affect the surrounding areas.
In a home with an air temperature of 80 degrees, a fan is sufficient to lower the temperature, thereby saving you money on energy costs. In a Phoenix home with an air temperature of 110, however, a 5-degree difference won't necessarily be noticed; you would need several fans running for extended periods to reach the cooling power of an AC. This negates some of your savings.
You also need to consider where the fan is running. An attic fan, for example, can help significantly cool down your home, while a kitchen fan may have less of an effect when major appliances are running. Running fans in every room of the house to try to equal the cooling power of central air conditioning will also negate some of your savings (while keeping the air temperature higher).
Getting the Right Mix
If you want to save money on your energy bills this summer while still keeping your home comfortable, consider the use of both a fan and an AC unit. Because a fan can lower the temperature as much as 5 degrees, try setting your thermostat at 5 degrees higher and running a fan only in the room you are in. This will keep your home in a comfortable temperature range and reduce your energy costs. Fans will help to maintain the temperature of the room so that the air conditioner does not have to kick on quite as often. Running a ceiling fan while you are away rather than the air conditioning can also help to save energy costs because the AC won't be running constantly in an empty home. (And it won't have to work as hard to lower the temperature again once you return.)
Keep Cool This Summer
It's always a good idea to look at different ways to lower your energy costs. Make smart use of both your fans and your air conditioner this summer— and keep cool while lowering your energy bill
Testimonials & Reviews
See what our customers have to say
I wanted to make sure my air conditioner was ready for summer. Fernando came out and made sure my unit was tip top. He was friendly, professional and not a sales man. Thanks Fernando!

Colin and Andrea were incredibly professional and knowledgeable. They did a great job representing the company. We will definitely contact them again for any HVAC needs that arise.

We woke up in the middle of the nite on memorial day to a hot house. I called precision at 6am and they were here before noon. Simple problem fixed, cool house. I love these guys!

Thank you Ray at Precision Air...the compressor on our AC went out last night and the house was HOT. This morning Ray was there to replace the compressor and had us feeling the cool air again in no time. Great customer service...quick response time and friendly from the first call until the repair was completed. Ray even offered to clean the filters! Thank you!!
I'm so glad I called Precision for my annual AC checkup!! Austin was professional, super friendly and answered all my questions. I've had more bad experiences with AC companies here in the valley than good ones. Precision Air will have all my hvac business going forward!! Thanks for being a reputable and honest company!!!

He did a great job; professional and knowledgeable! Kalin is the technician's name and Precision Air and Plumbing should take a bow for hiring such an invaluable employee!!!

Precision Air is a company of integrity. I signed up with them August 1st, 2019 for their AC maintenance plan for 2 years... Someone from their office called me a week ago to set up their yearly maintenance visit. SO GRATEFUL.

Precision Air and Plumbing is a wonderful company to work with! They are very experienced and professional. They have helped us in our home for many years via a/c service and air duct cleaning.

It was time to replace our AC, and so our choice was Precision Air, as we've been with them for over 20 years. Teman & Julian did an excellent job on the installation today, arriving on time.