What is Freon Used for in AC Units?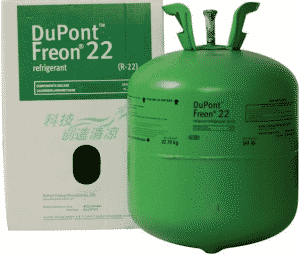 How air conditioners manage to take hot, humid, stuffy air and transform it into a cool, crisp breeze is a little bit like magic, complete with a special elixir that helps make the spell complete. Refrigerants, including Freon, are vital to the process that allows an air conditioner to function — in fact, refrigerant is practically the life blood of the air conditioning process. As it moves through the refrigeration cycle, the refrigerant in your air conditioner is compressed and expanded a number of times in order to take advantage of its unique ability to cool air quickly.
The Refrigeration Cycle
Refrigerant is pumped through your air conditioning system continually through the actions of a device inside your outside unit, called the compressor. This unit does exactly what it's name says does — it compresses the refrigerant until it's a hot vapor and passes it to the condenser, where it's cooled until it condenses into a gas.
From there, the refrigerant moves through the expansion valve, where the remaining heat is released as the pressurized liquid is slowly passed through the valve, allowing it to expand back into a gas. When it's nice and cool, it heads into the evaporator coil (located inside your furnace or air handler) and runs through the evaporator coil, where warm air is passed over a thin tube that houses the refrigerant, transforming it into very cool air.
As the refrigerant takes more and more heat out of the air, it expands back into a gas and moves back to the compressor for another ride around the system. Refrigerant is used in all parts of the air conditioning system — without it, no cool air would be produced from it.
It's the exact same process (though on a larger scale) as what takes place constantly in your refrigerator, freezer and automotive air conditioner. At the heart of any cooling system is refrigerant, and its willingness to expand and contract at relatively low temperatures and pressures is what makes it so efficient in keeping things cool. After all, the only way to cool anything is to remove the heat, and without an effective heat sponge, air conditioning couldn't exist.
Types of Coolant
When most people refer to Freon, they actually mean refrigerant. There are different types of refrigerants in modern air conditioners, and many that belong to days gone by. The most common you'll find in household units are R-22, a true Freon, and R-410A.
R-22 is the last of the true Freons, a line developed and manufactured by DuPont.  These refrigerants worked amazingly well, but when it was discovered that they were extremely dangerous to ozone, we began the long process of phasing them out.  These chlorofluorocarbons are now tightly controlled, making them increasingly expensive. R-22 will no longer be available after 2020. The manufacturing of R-22-based air conditioners was discontinued in 2010.
R-410A has been gradually taking the place of R-22. It was developed in 1991 by Allied Signal, now known as Honeywell, and released into the market in 1996. Since it allows for greater compression, R-410A is a much more efficient refrigerant than R-22, and has prompted the creation of better air conditioning systems that use less energy.
The next time someone asks you what it is that refrigerants do for your air conditioner, you can tell them that these amazing chemicals do just about everything short of running the machine. You can keep your unit and refrigerant working at its best by performing simple maintenance, like cleaning your outside unit frequently, changing your air filters, and keeping vegetation from growing too close to your air conditioner.
Testimonials & Reviews
See what our customers have to say
I wanted to make sure my air conditioner was ready for summer. Fernando came out and made sure my unit was tip top. He was friendly, professional and not a sales man. Thanks Fernando!

Colin and Andrea were incredibly professional and knowledgeable. They did a great job representing the company. We will definitely contact them again for any HVAC needs that arise.

We woke up in the middle of the nite on memorial day to a hot house. I called precision at 6am and they were here before noon. Simple problem fixed, cool house. I love these guys!

Thank you Ray at Precision Air...the compressor on our AC went out last night and the house was HOT. This morning Ray was there to replace the compressor and had us feeling the cool air again in no time. Great customer service...quick response time and friendly from the first call until the repair was completed. Ray even offered to clean the filters! Thank you!!
I'm so glad I called Precision for my annual AC checkup!! Austin was professional, super friendly and answered all my questions. I've had more bad experiences with AC companies here in the valley than good ones. Precision Air will have all my hvac business going forward!! Thanks for being a reputable and honest company!!!

He did a great job; professional and knowledgeable! Kalin is the technician's name and Precision Air and Plumbing should take a bow for hiring such an invaluable employee!!!

Precision Air is a company of integrity. I signed up with them August 1st, 2019 for their AC maintenance plan for 2 years... Someone from their office called me a week ago to set up their yearly maintenance visit. SO GRATEFUL.

Precision Air and Plumbing is a wonderful company to work with! They are very experienced and professional. They have helped us in our home for many years via a/c service and air duct cleaning.

It was time to replace our AC, and so our choice was Precision Air, as we've been with them for over 20 years. Teman & Julian did an excellent job on the installation today, arriving on time.